COVID-19 Information
Our COVID Mitigation Protocols have been modified and are subject to change at any point.
Student or Staff is Positive for COVID: Report to school office immediately or building principal immediately
Your child/staff member must stay home for at least 5 days from the onset of symptoms OR a positive COVID test.
May return on day 6 IF they are fever, diarrhea, and vomit free for 24 hours AND have significant improvement in symptoms.
Upon return they MUST wear a well-fitting mask through day 10 of their infection. If they are unable to mask, then they must remain at home for the full 10 days.
Close Contact/Direct Exposure to a Positive Person:
Your child/staff member may remain in school. Please monitor for symptoms and consider testing on days 3 and 5 following exposure as well as consider masking. If your child/staff member becomes symptomatic after known exposure, they must stay at home and seek immediate testing.
While masks are optional, masks are required when returning from a positive infection (days 6-10) and if there is a household exposure. Students and staff may choose to wear a mask due to underlying health conditions, immune system concerns, choice, or any other factor.
Students and staff are reminded to stay home if ill and not return until symptoms have resolved and are fever, diarrhea and vomit free for more than 24 hours.
HPS encourages all eligible students and staff to be up to date on vaccinations.
2022-23 COVID-19 Dashboard
Holt Public Schools will share updates received from the Ingham County Health Department (ICHD) and Barry-Eaton District Health Department (B-EDHD) on this COVID-19 Dashboard, as required by the Michigan Department of Health and Human Services, effective October 12, 2020.
Holt Public Schools will work with the ICHD and B-EDHD to receive and share data regarding school associated cases. The ICHD & B-EDHD determines what is a probable or confirmed case. According to the MDHHS, a "school associated case" means a case of probable or confirmed COVID-19 amongst students, teachers, staff members, coaches, volunteers or any other person who was present on school property or at a school function under circumstances that may result in the transmission or contraction of COVID-19 during their infectious period. As directed by the MDHHS, the ICHD and B-EDHD must share probable or confirmed cases with schools within 24 hours. Schools will then post the information received in a public place within 24 hours of notification from the health department.
We will continue to work with Ingham County Health Department and Barry-Eaton District Health Department to ensure the safety of our learning community.
HOLT PUBLIC SCHOOLS
COVID

-19 DASHBOARD
Building
Active
Cases
Resolved
Cases
2022-23
Total
Cases
2022-23
Midway Early Learning Center
0
28
28

Dimondale

Elementary School
0
34
34
Elliott Elementary School
1
24
25
Horizon Elementary School
0
40
40
Sycamore Elementary School
0
13
13
Wilcox Elementary School
0
25
25
Hope Middle School
0
30
30
Washington Woods Middle School
0
30
30
Holt Junior High School
1
78
79
Holt Senior High School
0
38
38
North Campus / Administration Building
0
35
35
Maintenance / Transportation Building
0
0
0
*Resolved Cases: A case is considered resolved, after isolation has been completed.
The information on this website will be updated when the District receives information from the Ingham County and Barry-Eaton District Health Departments.
COVID-19 Dashboard updated June 12th, 2023.
General Guidance for COVID-19
Holt Public Schools - COVID General Guidance
(Guidance designed using the ICHD guidelines in conjunction with CDC guidelines blue highlight indicates a change from previous procedures.)
General Guidance for Students and Staff Members who test positive
Student or staff must isolate at home for 5 days following a positive COVID-19 test result. They may only return to the building when the following conditions have been met: 1) they have isolated at home for at least 5 full days; 2) they have been fever, diarrhea, and vomit free for at least 24 hours without the use of fever- reducing medication, and; 3) other symptoms are gone or significantly improving. The date of the positive test is Day 0. Must correctly and consistently wear a well-fitting mask for 5 additional days following their return, including during breaks/lunch to the extent possible. If the student or staff member is unable to mask; then they must remain at home for the full 10 days.
General Guidance for Students and Staff Members who are close contacts
Regardless of vaccine status, students and staff members with a known exposure to COVID-19 should monitor symptoms for 10 days and continue working. Testing at least once is strongly encouraged on days 3-7 following exposure or if any symptoms emerge. Day of exposure is day 0. If symptoms develop, students and staff should get tested and begin isolation immediately. No quarantine is required for close contacts. It is highly recommended staff and students wear a mask when there is a positive case in their home.
Continue reading the HPS - COVID General Guidance
Explaining COVID-19 to Children
According to the Center for Disease Control (CDC), people with COVID-19 have had a wide range of symptoms reported – ranging from mild symptoms to severe illness. Symptoms may appear 2-14 days after exposure to the virus. People with these symptoms may have COVID-19:
Fever or chills
Cough
Shortness of breath or difficulty breathing
Fatigue
Muscle or body aches
Headache
New loss of taste or smell
Sore throat
Congestion or runny nose
Nausea or vomiting
Diarrhea
This list does not include all possible symptoms. Check the CDC website for an updated list as we learn more about COVID-19.
CDC's Coronavirus Self-Checker
A tool to help you make decisions on when to seek testing and medical care.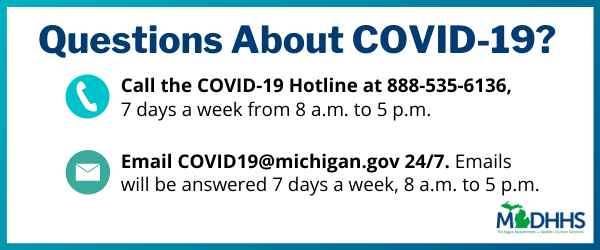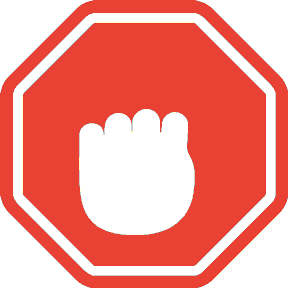 DO THE FIVE
Help stop coronavirus:
HANDS - Wash them often
ELBOW - Cough into it
FACE - Don't touch it
SPACE - Keep safe distance
HOME - Stay if you can